Overview
The arch of the foot is a very complex structure, consisting of multiple bones and ligaments. Most causes of arch pain are related to the anatomy of the arch and the types of physical activity that you perform. For example, a classic set up for arch pain is people who engage in lots of high impact exercise (such as running) while wearing a type of athletic shoe that does not properly support their type of foot arch. If you notice that the twinges of pain you have are most commonly associated with or immediately after exercise, you might want to visit a good athletic shoe store to make sure you are wearing the right kind of shoe. Another cause of arch pain is plantar fasciitis. The plantar fascia is a tough tissue structure that holds the bottom part of the arch in place. The fascia often becomes inflamed and sore, usually as a result of repetitive motion (for example, very common in those who stand on their feet for work). The pain is often noticeable first thing in the morning and worse with activity. In addition to wearing good arch supports and taking anti-inflammatory medications, stretching exercises are often a part of the treatment. You should see your primary care doctor to determine what is the best treatment for you.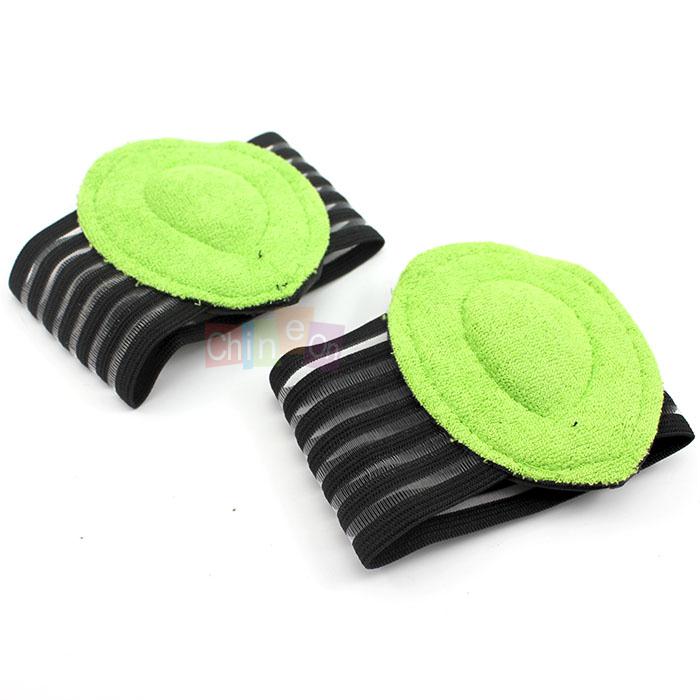 Causes
The most common cause of arch pain is plantar fasciitis. Plantar fasciitis is inflammation of the fibrous band of tissue that connects the heel to the toes. Sufferers of plantar fasciitis typically feel pain early in the morning when they first get out of bed. Another common cause of arch pain is fallen arches or flat feet. Fallen arches result in the sole of the foot becoming flat so that the entire sole of the foot touches the ground. Fallen arches can lead to pain in the ankles, knees, feet, and even in the legs. While fallen arches are often inherited, for some it develops as a result of wear and tear on your feet. Wearing shoes without proper metatarsal support, or arch support, can overstretch the tendon that supports the arch causing the arch to flatten out.

Symptoms
Experiencing chronic pain of any kind can lead to feelings of fatigue, irritability and even depression. Friends may joke about having 'tired dogs' after a long day, but this is completely different from your experience if arch pain has begun to impact your life on a daily basis. You may dread getting out of bed in the morning and wonder how you're going to get through a work day without having to limp home at the end of it.

Diagnosis
After you describe your symptoms and discuss your concerns, your doctor will examine your foot. Your doctor will look for these signs. A high arch. An area of maximum tenderness on the bottom of your foot, just in front of your heel bone. Pain that gets worse when you flex your foot and the doctor pushes on the plantar fascia. The pain improves when you point your toes down. Limited "up" motion of your ankle.

Non Surgical Treatment
Treatment for flat feet and fallen arches depends on the severity and cause of the problem. If flat feet cause no pain or other difficulties, then treatment is probably not needed. In other cases, your doctor may suggest one or more of these treatments. Rest and ice to relieve pain and reduce swelling. Stretching exercises. Pain relief medications, such as nonsteroidal anti-inflammatories. Physical therapy. Orthotic devices, shoe modifications, braces, or casts. Injected medications to reduce inflammation, such as corticosteroids.


Surgical Treatment
The main goal of surgery is to reduce pain and improve function. It may also reduce other injuries such as repeated ankle sprains and broken bones. Surgery may be considered if there is no relief with physical therapy, changes in shoewear and/or changes in activity. Some patients will also have tendon problems, ankle weakness and foot fractures. These patients may require other procedures to address related problems. If you have medical problems that make surgery unsafe, any infections or blood vessel disease, cavus foot surgery may not be appropriate. The surgical procedures involved with the correction of the cavus foot are varied. Theses may include correction of the bony deformity, ankle looseness and the muscle imbalances that cause the deformity. The goal is to provide a foot that evenly distributes weight along both inside and outside edges. A variety of incisions may be needed to perform the procedures related to the correction of the cavus foot.

Prevention
Arch pain occurs when the plantar fascia becomes worn down due to constant strain or excessive exercising. This may be caused by increasing your running or hiking mileage too fast, wearing inadequate footwear, lack of stretching, running on steep hills, standing on your feet for too long and abnormal anatomy such as flat foot. Stretching is an important exercise that should not be overlooked because the tightness or lack of tightness of the joints in the foot can also cause pain in the arch.